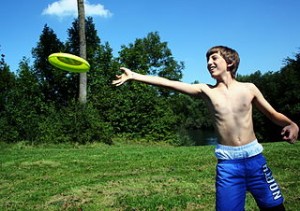 With the 'never a spare minute' way we all seem to live nowadays it can be hard to find time for parents to go and do their own regular exercise several times a week. Equally, getting kids out and exercising is not always easy during summer holidays or breaks when you still have to work and keep paying the bills so we have recently taken to exercising together on a Sunday in the local park and making it as fun as possible (that is, we never use the E word).
Fun Family Exercise
Our family consists of my wife and myself (mid 30's), my daughter (8), son (6) and the newest arrival at 7 months (I am using my Jedi-parent mind trick to get him to exercise… yet) so we needed something that we can all do and all enjoy and the following are a few of the things that have been working out.
1. Frisbee
Who does not love tossing a frisbee and when you do it with your kids there will be a whole lot of chasing after the frisbee as it rolls in the wrong direction. Still, they picked this up pretty quick and now it makes for a fun and surprisingly taxing little workout that can be done in the middle of a walk in the park or some such to throw a sprint style workout into the mix.
2. Olympics (tabata sprints, jumps etc)
I am trying to work more sprinting into my week and a fun way we are doing this at the moment is for the five of us to go into the park and find a nice little spot to do a tabata sprint along. For those that don't know, this is a 4 minute exercise where you run for 20 seconds and then rest for 10 seconds and repeat the whole thing 8 times. Sounds easy but is absolutely brutal.
So, to make this fun, we find a strip of about 100 metres and park the kids in the middle of this with a stop watch. They then time us and shout out "STOP" and "GO" and we run back and forth covering less and less distance. Then… we do the timing and get the kids to do the running.
We switch this up and do all sorts of bounding, skipping and jumping exercises (google plyometrics) and get the kids to time the lot – and then we time them and look like Nazi parents when normal people walk on by.
3. Stuck in the mud
This is a great game that works for the family or is even better with friends or a bigger group. You basically have one (or more) person on and they have to touch the other players. Once they have made contact that person is stuck in the mud and must stand with their arms out and legs open. The remaining players can then attempt to free them by either tagging them (easy) or going through their legs (difficult).
This works well with just one of the adults on or even with both of our kids against us. Likewise, if we have any other uncles, aunts and friends this can be a really fun and surprisingly challenging game – especially if you attempt it after two or three tabata sessions!
4. Tig
Surely everyone knows how to play tig? One person is on and they have to tig another player, and then they are on. Surprisingly fun, surprisingly tough.
5. Dodgeball
Similar to tig but with soft balls – lots of running, lots of laughs and a challenge for old and young alike.
Making fitness fun
It's all too easy to get drawn into the whole 'kids don't do as much exercise' as they used to way of thinking but in my mind that is horse crap. I have watched my two elder children jump on the trampoline for hours on end and that is some ass kicking exercise and they never stop running, jumping and ultimately, playing so in a way, this is not for them, this is for us! Sure, some kids don't walk to school any longer and if they are allowed to eat too much junk, play too many video games and get overweight then they may slow down but it is your, our responsibility as parents to keep them active and to make it fun!
Give this a go and I am sure you will soon realise just how much fun it is to play, exercise as a family and how much you have missed it!
---