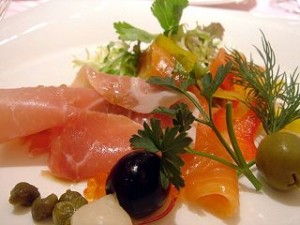 If you have an autoimmune disease we have to take the Paleo diet a step further and do a thirty day elimination diet to test for sensitivities to nuts, eggs & nightshade vegetables like peppers, tomatoes, aubergines & potatoes. It also makes sense (if you can hack it) to remove coffee for the 30 days as well as that is a common gluten cross reactor (your body thinks it is gluten).
When reading about the Paleo Autoimmune Protocol, all too often the focus is on what you can't eat rather than the wide and varied range of food choices left available to you so, rather than play the dietary Nazi, I am going lay out a list of foods that should for the basis of your shopping and I will follow this up next week with some simple ideas for breakfast, lunch, dinner and even snacks (because I am nice like that).
Autoimmune Friendly Shopping List
So, just to be clear, all the following are 100% autoimmune protocol friendly and should form the basis of your shopping.
Vegetables
Your plate should be piled high with vegetables and the following are all 100% autoimmune friendly
artichoke
asparagus
avocado
beetroot
broccoli
brussels sprouts
butternut squash
carrot
cauliflower
celeriac
celery
chard
collards
courgette
cress
cucumbers
kale
kohlrabi
leek
lettuce
mushrooms (all)
okra
onions
parsnips
pumpkin
radish
rhubarb
shallots
spinach
squash (all)
swede
sweet potato
turnips
watercress
yams
So, as you can see, there is a wealth of vegetable choices for you to work with and no need to lament those peppers and tomatoes.
Fruits
Technically, no fruits are really off limits (discounting tomatoes) but it does make sense to try and stay on the lowish carb side of things and to avoid excessive amounts of fructose so I would work with the following list of low fructose fruits for the 30 day program and make these a snack rather than your main source of food.
Pineapples
strawberries
raspberries
blackberries
lemons
limes
bananas
rhubarb
orange
Again, there are plenty to choose from and no reason to feel like you are denying yourself.
Meat & Fish
Well, it gets even easier here and we are fairly standard paleo at this point so some simple pointers to set you off on the right path should be enough.
Meat
Meat is pretty simple, you can buy the farm if you go for grass fed or pastured meat and you can eat the fattiest cuts you can find. If you are shopping in the supermarket then stick to lean cuts like pork loin, chicken breast etc and avoid fatty cuts of grain fed animals.
Fish
Pretty much all fish is on the menu but if possible stick with wild caught fish. This is most often a problem with Salmon where the stuff in your supermarket comes from
salmon farms
where they are fed an unhealthy, unatural diet and are kept in cramped, unhygenic nets with thousands of other fish. Some larger supermarkets sell fresh wild salmon but it can be expensive but there is an easy answer as most frozen salmon is wild caught and usually comes in at around half the price of fresh. The same applies with Tuna and other fish so check out the freezer section and keep it wild caught!
A Matter of Perspective
Ultimately, as with many things in life, this is simply a matter of perspective and you can view it as an exciting month of exploring new food choices OR you can mope and moan and attempt to hate your way through the month whilst you ultimately edge ever closer to giving in and giving up.
Remember, it's only 30 days and you can try to reintroduce these foods and whilst you may find you have problems with some of them you are then a whole lot closer to securing your health.
Failing to plan is planning to fail
This is tough, no two ways about it, but do a little bit of planning and make sure you have a good set of meals laid out for breakfast, lunch and dinner else you are going to find yourself in a pickle, hungry and prone to making bad food choices. So, grab yourself a pen and pencil and sit down and sketch out some meals that you can shop for and fit in with what you and your family want to eat. Also, be sure to check back next week as I will lay out a bunch of my favorite breakfast, lunch and dinner recipes along with some autoimmune friendly snacks.
---