Since starting the Paleo diet one of the things that has intrigued me the most is the importance of eating fermented foods. Up until starting Paleo I couldn't tell you when the last time I ate something fermented was, sure alcohol is fermented – and most of us enjoy that every once in a while – but I couldn't remember the last time that I actually ate food that was fermented. I occasionally bought sauerkraut from the supermarket but that is often Pasteurised after the fermentation process, thus killing the live bacteria that will be beneficial for us.
So I decided to make my own kimchi, a Korean dish of fermented cabbage, by following the recipe on Mark's daily apple, so my gut could benefit from all the healthy live bacteria. The recipe is quite simple (so long as you can find a Korean supermarket to buy ingredients) and once made the kimchi is left to ferment for a few days in a jar covered with cling film. As food ferments it releases carbon dioxide and other gasses so it cannot be kept in an air tight jar; but we also need to stop any foreign particles from entering as that would cause spoilage and potential health risks – cling film is a reasonable compromise but it's just that, a compromise. The obvious solution to this problem is some sort of valve system, so I started Googling to see what I could find. Well, It wasn't long before I found instructions on how to make a home made fermentation jar which seemed both simple and inexpensive. All that is required is a Kilner / Mason style jar that has a two-piece screw lid, a brewers air-lock with grommit & some food grade lids that are suitable to be drilled (and the same diameter as your jar).
I already had the jars & I have a home brew shop within walking distance so the air-lock & grommit were easy to find. It was only the lids that proved a problem so it was back to the Internet again. Thankfully the people at Tattler, (who sell BPA-free reusable canning lids) were extremely helpful and sent me some over from the US – finally I had everything that I needed!
The procedure to make the fermentation jars is simple:
Firstly  – Drill a half inch hole into the lid with a 'flat wood drill bit'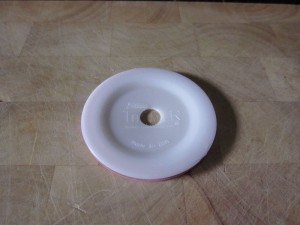 Secondly – Insert the grommit, this can be a little fiddly but patience is a virtue.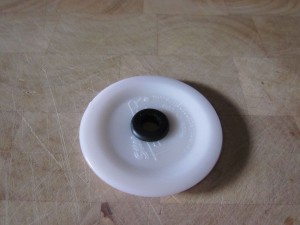 Finally – Screw on to the jar  and push the air lock valve into the grommit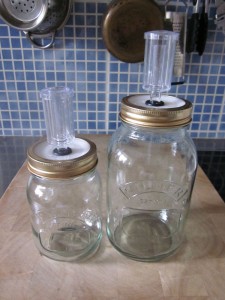 For those who have any concerns about potential health aspects of the lids please have a look at Tattler's web site for safety information. Also it is advisable to use a food grade grommit.
---