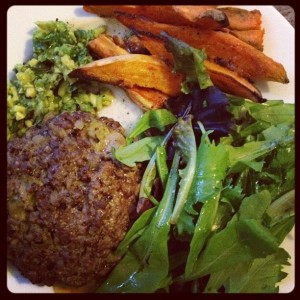 Homemade beef burgers (grass fed of course) are a favourite of ours at home and McDaddy's is on the way to replace McDonalds as a favourite for the kids (I just need to supply the burgers in a cute box and with an instantly forgettable toy and I think i'll have that fiendish Ronald McDonald bested for good.
Anyhow, if your looking for a way to jazz up standard homemade burgers and make them a little more glamorous for entertaining or for a weekend then this stuffed burger recipe is a winner.
There are various Paleo stuffing's you can use, all based around avocado as a base and I will give you three of my favourites but I would love it if you experimented and could kick back some ideas as I am always looking for a reason to rock some of these badboys burgers.
Homemade Stuffed Beef Burger Recipe
As ever, I try to make my all my recipes compatible with the stricter autoimmune protocol or Paleo Leper Protocol as I have taken to calling it. In most cases a bit of fiddling is enough to do that without it impacting the food but one of the fillings I suggest is not AI compatible so…. I will state that and if you are one of the lucky (non leper) Paleo or primal people then fill your boots (or fill your burger rather).
Burger Ingredients – enough for 2 Hungry Cavemen! 
500g  of grass fed beef – grass fed best but not a deal breaker! 
1 x tbsp of dijon mustard
1 x tsp sea salt
good grinding of pepper
If you tolerate eggs and want to add one to this mixture in lieu of the mustard which I use to bind it then please do. Also, feel free to adjust the spicing and use cumin, chilli flakes or whatever floats your boat. 
Fillings Options
Choose one of these to stuff your burgers:
1 x Avocado + 2 x field mushrooms + splash of olive oil + salt & pepper (Autoimmune Protocol Compatible)
1 x Avocado + handful of olives + splash of olive oil + salt & pepper (Autoimmune Protocol Compatible)
1 x Avocado + handful of sundried tomatoes + lemon juice + splash of olive oil
Instructions
Pre heat your oven to 200c (gas mark 6 / 400f)
Mix up the burger ingredients by hand
Mix up the chosen stuffing – you can mash it, or use a blender, all depends on whether you like it rustic and chunky or smooth, I go smooth on the mushroom and olive ones and I like it a bit more chunky with the autoimmune forbidden tomatoes but I will leave that one up to you
Divide the burgers into 4 balls with 2 slightly bigger
Take the bottom balls and make  a burger and try to make a bit of an indent for your filling
Slop your filling onto the burger leaving enough space around the edge to seal the deal
Form your 2 smaller balls into burgers and layer them on almost like a pie lid.
stick them on a baking tray and throw them in the oven to cook for approx 25 mins give or take 5 mins depending on how you like your beef *
* You can also pan fry them in butter but I tend to cook them in the oven first and finish them off in the pan if you want to do this so you are not pushing them around too much. 
On the side
Well, that depends what kind of mood I am in. Maybe another stuffed burger? Seriously, I would generally have sweet potato wedges, a simple salad and this time I chopped up an avocado with some coriander (cilantro), a splash of olive oil, the juice of one big lime and a good grinding of sea salt and pepper and did an autoimmune friendly guacamole. You can always toss a few tomatoes into this if you are feeling adventurous!
Chow down!
Well, that is a current favourite in our house and it in now way feels like we are depriving ourselves despite the audible gasps and looks of pity we get when we describe our grain, dairy, legume, nightshade, egg & nut free diet to people!
Please, help us get the word out and share this via the social icons below and visit our Facebook page and give us a like and we will make sure the good recipes and Paleo information keeps a coming your way!

---