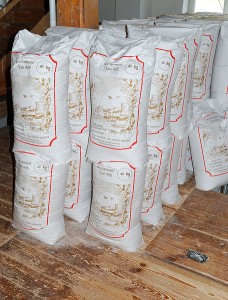 When you first go Paleo, lots of the foods you used to eat are no longer available to you, and if you did a lot of baking this means many of the healthy, home cooked foods you used to prepare have to be taken off the menu. This is problematic, as in these busy lives that we all live, we need to get home, get our families fed, children into bed and try to find a small window of time for ourselves before the whole cycle starts again and having to reinvent the meal wheel every night is no fun (even for those of us that enjoy cooking).
Paleo Baking
Much of the problem relates to 'Paleo Baking' and in the last few years loads of new paleo recipe sites have sprung up and there is some truly amazing stuff out there (check out civilised caveman).
The problem here is that whilst many of these recipes are technically within the Paleo guidelines and use Paleo safe foods like nut flours and honey, eating too many of these kind of treats or making them a staple part of your diet is most certainly not in your best interest and it is too easy to skyrocket your omega 6 and phytic acid just from nuts and nut flours alone.
Paleo Friendly Flours
Looking at the raft of admittedly very cool Paleo baking sites you could be mistaken for thinking that nut flour was the only safe Paleo flour when in all honesty, it is one of the worst unless used very sparingly. This becomes more of an issue for those of us with Autoimmune disorders as the regulation of our omega 3 & 6 balance to keep control of inflammation is top priority.
The following is a list of other Paleo friendly flours that are all okay for standard or autoimmune protocol paleo baking. You can use these in your baking, often as a direct replacement for the nut flours and whilst still a form of processed carbohydrates, there is much less phytic acid and omega 6 so we are at least optimising these dietary treats as much as possible.
1. Plantain Flour
This is a very fine and dense flour made from green plantains. It works well in pancakes and as a direct replacement for nut flours. It is a safe starch in so much that it does not include any major levels of anti nutrients, food toxins or omega 6 PUFA and is okay for those of us following the stricter autoimmune protocol. The only real problem I have found with plantain flour is that is tricky to use and it works best as part of a flour blend (1 part plantain, 1 part coconut flour, 1 part flax meal seems to work well).
2. Tapioca Flour
This is a flour created from the root of the cassava plant and is another of the so called 'safe starches' with no food toxins, antinutrients or omega 6 PUFA and is autoimmune protocol friendly. Tapioca flour is a little more user friendly than plantain flour and works really well in pancakes, banana bread and other paleo baking. Again, it works well as part of a flour blend and for those of you  that can tolerate nut flours then 2 parts tapioca, 1 part almond flour & 1 part coconut works well.
3. Coconut Flour
This is the king of Paleo flours, almost. It is high fiber so lower carb, it is autoimmune friendly, no fragile fats or omegas, only problem is that it's pretty useless as a flour in and of itself. It works well as part of a flour mix with plantain, tapioca etc and if you can get away with 2 parts coconut and 1 part tapioca/plantain then you are optimising things just about as much as is practical. It works well with eggs so you can use it as it is in pancakes with a couple of eggs and maybe a smushed up banana to keep it all together.
Use your loaf
Ultimately, Paleo baking should be a treat, but if you are going to bake then these three flours form a better base than the almond and nut flours and especially for those of us with autoimmune disorders. There is no fragile omega 6, no antinutrients or toxins and with a little bit of blending and fine tuning, these flours can be used for pretty much anything.
Remember, they are still processed, so take the carb load into consideration and use coconut flour blended with the other options to keep the carb impact as low as possible. Also, try to use your baked snacks as a post workout or weekend treat rather than the backbone of a healthy Paleo diet.
---