Breakfast can be a bit of a dirty word on the Paleo diet, but, add in the additional restrictions of following the Paleo Autoimmune Protocol with no eggs, nuts, tomatoes etc and then, well, that Intermittent Fasting to skip breakfast can look a whole lot more attractive (and is what I tend to do in the week). Still, ever the optimists, there are still things you can eat for breakfast that are not just leftovers or steak (steak for breakfast, gotta love Paleo eh folks).
Smoked Salmon & Sweet Potato Hash Browns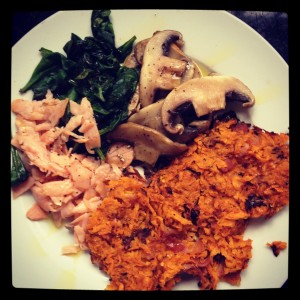 This was a cute Paleo breakfast that took about 20 minutes to make and was a change from bacon & sweet potato but I did manage to sneak a bit of bacon into the hash browns.
Ingredients
1 x Large Sweet Potato
1 x small Onion
2 rashers of streaky bacon
wild smoked salmon
large mushrooms
spinach
virgin coconut oil + extra virgin olive oil
Instructions
Chop into small pieces and start to fry the bacon

Peel & Grate the sweet potato

Finely dice the onion

Mix the onion and sweet potato and add it to the pan with a good chunk of virgin coconut oil 

You will kind of need to stir it around for about 10 mins or so until it really softens up and starts to get a bit crispy. Then, you can start to form into shapes and let it crisp up a bit more. You can flip it in the pan or stick the pan under the grill to the do the tops as they may be a bit more fragile than normal hash browns. 

Slice your Mushrooms and fry them up in virgin coconut oil or a few minutes

Your salmon can be raw or you can warm it up for a minute in the pan (i like it warmed but that's a matter of personal preference)

Throw your spinach in the pan for a minute tops till it wilts
Throw it on a plate
Then just throw it all on the plate and splash over a bit of olive oil if that's your thing. A pinch of nutmeg on your spinach won't hurt either and make sure to add a bit of good quality sea salt and pepper and you have yourself a tasty, posh and 100% paleo autoimmune protocol friendly breakfast that will please and satisfy.
Comments, questions and sharing
I will be adding several recipes as and when I can to help people on the autoimmune protocol but if you could help us by sharing this page on Facebook, Twitter and clicking the Google Plus button and Facebook Like button in the right hand column that would be a big, big help.
Any questions or comments please drop below and if you have any particular meals you would like us to Paleo'ise or Autoimmune Paleo'ise just let me know!
---